Leather has always been one of my favourite materials. It instantly makes any outfit look chic helps with the rocker chick vibe. Fall marks the start of leather as we transition into colder temperatures and put away our summer tops and skirts. But of course, a little reality check here in Singapore: It's perpetually summer :( But still we can survive the heat in leather pants and even skirts. Just leave out the leather jackets.
source: http://main.stylelist.com/2011/04/22/leather-pants-and-striped-dresses-celebrity-looks-of-the-week/
Throw on any kind of top with a chic pair of leather pants and you're ready to go! Fall is great for big slouchy sweaters but to avoid looking like a big ball of wool, make sure you pair it with a great pair of slim fit leather pants. And if you're going for a classier look, wear a plain top, add on a blazer, heels and lastly a pair of leather pants and you'll look oh-so-posh.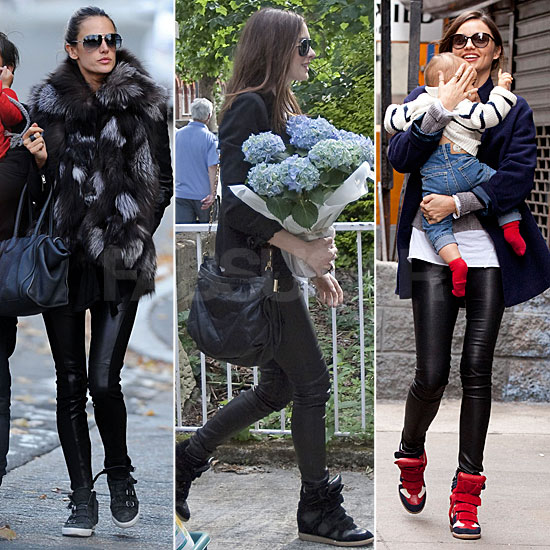 My personal favourite is pairing leather pants with sneakers for those lazy days when you just want to sit back, relax and be as comfortable as possible.
This season, try leather with a matte finish over those with a shiny finish because shiny leather is like so last fall. Spotted a few simple and classic pairs of leather pants while I was looking through ASOS's site.
(P.S Click on the picture and you'll be directed to the retailer's website!)
L: Tripp Nyc Leather Look Skinnies
R: ASOS Skinny Trouser in Leather Look With Panels
ASOS Peg Trouser in Leather and Suede Panels
I love this pair because of it's unconventional deep purple colour! A great colour for fall too!
And how about some leather skirts for a change of look? A pretty white pencil skirt for work and a cute monochrome flirty skirt for a date!
L: ASOS Pencil Skirt in Leather
R: ASOS Skater Skirt in Leather Look