Probably one of the lesser known food centres to anyone who does not live in the Bukit Timah area, it contains an amazing range of food at really cheap prices. I have the benefit of a dad whose boss decided to open a laksa stall there in addition to his marine engineering business. And his boss got him to help mend the stall.
If you've been reading my blog for quite a while now, you would know that I had previously written a
review
on Terry Katong Laksa (dad's boss) ,the White Carrot Cake stall and Penang Char Kway Teow stall.
Today will be much of a recap because I've recently been there again and ate pretty much the same stuff more or less.
P.S Photos taken with an S3.
Now I know many of you will think that my view on Terry Katong Laksa is probably bias because of its affiliation to me. However, I'm sorry to have to disappoint you on this because I truly believe in giving my honest opinion independent of relations.
The selling point of his laksa, like all other decent laksa stalls, is the broth. It's not too spicy and most importantly it's thick and fragrant with the taste of dried shrimp (? is that what they use?). Plus there is NO MSG.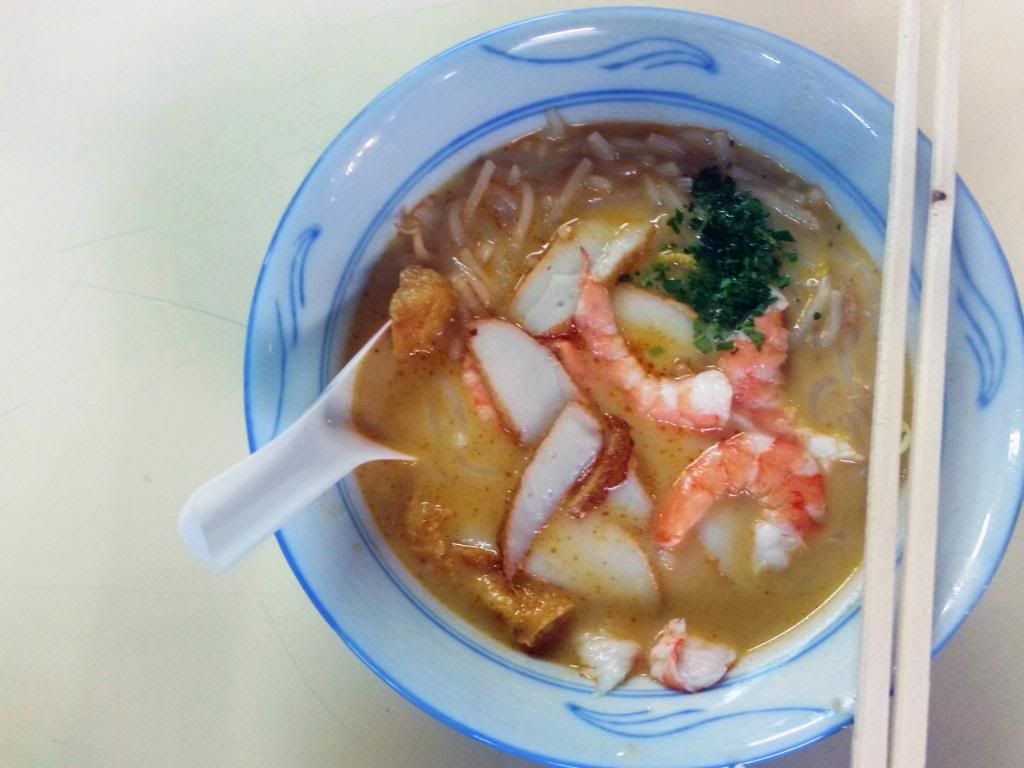 Terry Katong Laksa
However, I have to confess something. Some of you may beg to differ from my view because you probably had watery broth with a very strong coconut taste. I've just recently found out that the quality of the broth is dependent on who prepared it. My dad doesn't prepare the broth. It's all prepared by his boss and many times, his boss' son.
Now the super mega good broth is prepared by his boss' son because the coconut is already added in while cooking the broth. If it is prepared by his boss, the coconut is only added into the broth after an order of laksa is placed. This results in a watery texture and overpowering coconut taste. It's his boss' instructions on cooking laksa and my daddy will get scolded if he doesn't follow, duh.
Now my dad tries his best to remedy this so he will secretly put the coconut milk into the broth as soon as he receives it. However, time is needed for the broth to mix well with the coconut, so if you are one of the first few customers of a new pot of laksa broth, you would probably get the watery one. HOWEVER I HAVE TO EMPHASIZE THAT THIS HAPPENS ONLY ON DAYS WHEN HIS BOSS PREPARES THE BROTH, WHICH IS ONLY A FEW TIMES IN A YEAR. The other times the broth is prepared by the boss' son.
So I would safely say that you would get good laksa broth majority of the time.
Penang Char Kway Teow (opposite Terry Katong Laksa)
The queue is always LONG so be prepared to queue. This version of Char Kway Teow is less oily and less brown (which means it's less sweet). Plus the noodles are thinner. I like the fact that it's less oily but I don't like it that it's less sweet. I can't decide if I prefer this or the Singapore style, but either way, this Char Kway Teow is definitely worth eating.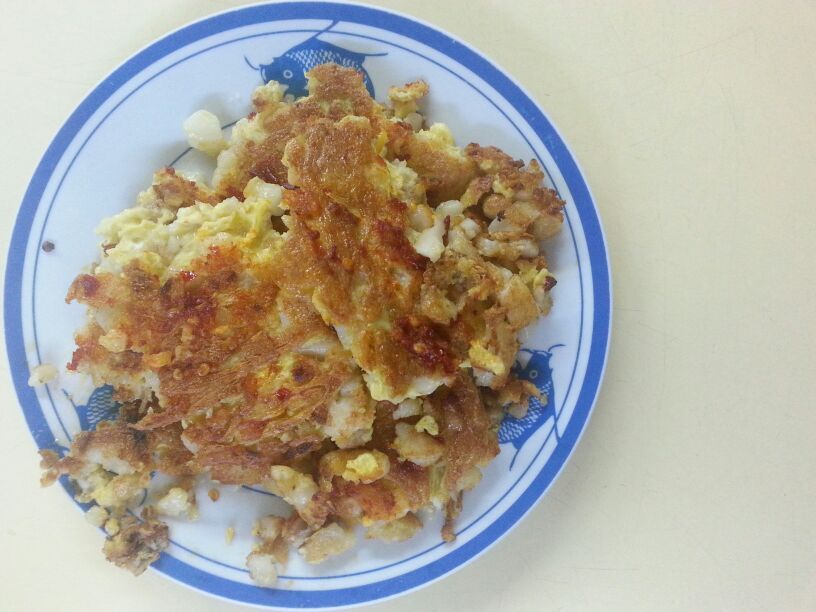 Seng Kee Carrot Cake: White Carrot Cake
A decent portion for about $2, this white carrot cake is loaded with eggs and extremely yummy. It's definitely my favourite white carrot cake and I'm a huge fan of carrot cakes, having eaten at many places! I was honestly puzzled that this one didn't get nominated for Hawker Heroes though. Maybe because most Singaporeans love the black version better?
Now there are 2 stalls selling white carrot cake at the same lane. Which one to get? The one at Seng Kee Carrot Cake-- red signboard, stall number 2182.
Terry Katong Laksa
Seng Kee Carrot Cake
Penang Food Stall (Opposite Terry Katong Laksa)
Bukit Timah Food Centre
116 Upper Bukit Timah Road