Tian Tian Chicken Rice needs no introduction. A deserving nominee (and now winner) of Hawker Heroes, I daresay the chicken rice they serve is the best in Singapore. The never ending queue at Maxwell Food Center is a testament to how delicious their chicken rice is.
Which is why I had to drag my family to try their chicken rice. My family has probably eaten all the notable chicken rice except Tian Tian, and since the main branch at Maxwell closes pretty early in the night, we headed to their Joo Chiat branch.
P.S photos taken with an S3 so pardon the quality.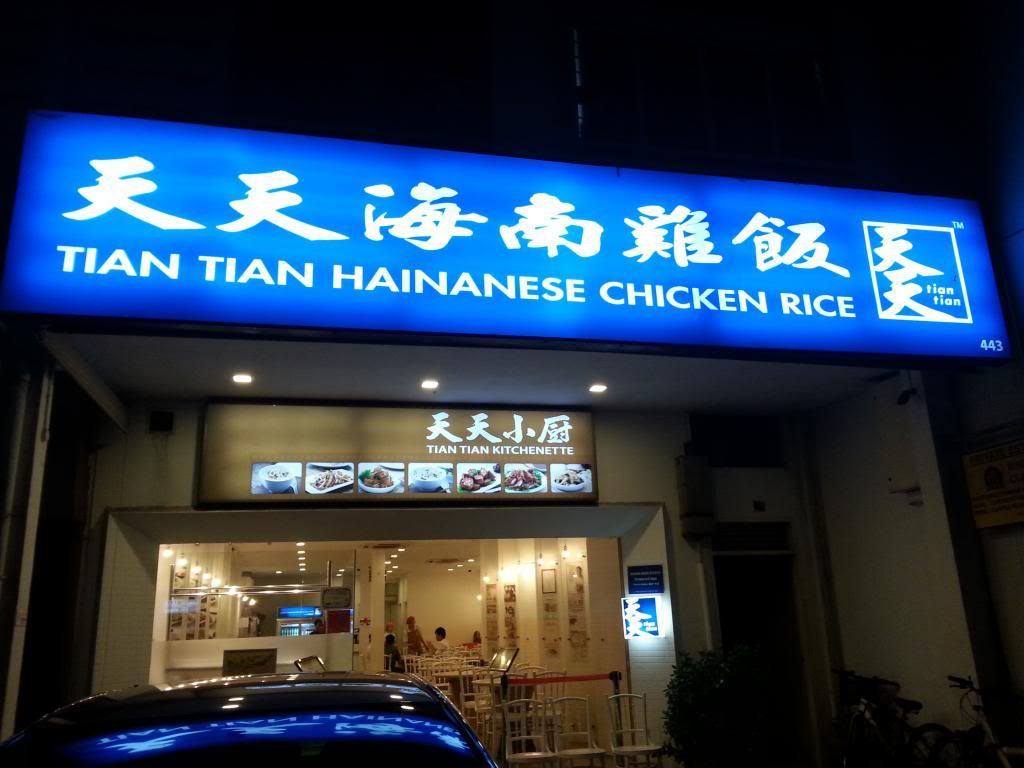 As you can see, the Joo Chiat branch is more of a restaurant than its humble little parent at Maxwell. But over here, you get to enjoy your chicken rice in the comfort of air-con and waiters.
I can't remember the price of a plate of chicken rice at the Maxwell branch, but the one here is $3.80 if I didn't recall wrongly. It may be slightly more expensive than the Maxwell branch, which I've expected since you're paying for air-con, a proper stall and all.
Steamed Chicken
Honestly, we almost died trying to finish off the whole chicken. The waitress recommended one whole for the 5 of us but really, unless all of you are growing teenagers, please just stick to 1/2 a chicken. So back to the taste, I can tell you why I think Tian Tian serves the best chicken rice in Singapore and I'm sure hundreds would agree with me. I only eat chicken breast and that is the driest part of a chicken. Most mediocre chicken rice stalls would serve it pretty dry, the better ones managed to wrangle some juice out of it. However, the one at Tian Tian is surprisingly juicy. I daresay the juiciest chicken breast I've ever had. Of course, the sauce which the chicken is drenched in is fantastic and probably helped a lot in getting the breast all juicy with a nice smooth texture. My dad, the chicken rice fan, declared Tian Tian chicken the best he ever had. Previously, Boo Tong Kee held the record.
Beansprouts
Pork Chop
Here's the thing, we asked the waitress to recommend another dish besides the chicken and the beansprouts. She replied the pork chop which is their signature dish. Bad bad move. Don't get me wrong, the pork chop tastes decent but to have pork chop as the signature dish when the shop is named after chicken rice is just senseless. Of course it might have been a slip of the tongue, but I really felt like I wasted that tiny little bit of stomach space for these pork chops. Like I said, decent, sweet but nothing special. Just stick to chicken rice and vegetables. If you have more stomach room to spare, walk a few streets down and you can get a bowl of 328 Katong Laksa. Which was actually our plan, to share a few bowls of laksa after the chicken rice. But sadly, the chicken was overwhelming in portion for the 5 of us and we had to squeeze pork chops into our tummy too :(
Tian Tian Hainanese Chicken Rice
443 Joo Chiat Rd
Singapore 427656
Tel: 6345 9443