I'm combining these two because of the lack of pictures for our 22nd Monthsary. It's only 1 photo collage and a really small one too :(
21st Monthsary @ Covelli
It's located at Orchard Central, the place where no one goes because there's nothing there. But the food places are pretty good! There's the awesome Quiznos, Lao Bei Jing (for cheap dim sum buffet) and now, Covelli!!!
The food there is actually good (and expensive too, but we got voucher, muahahha!) and they have some cheap set lunch thing going on right now!
SUPER DELICIOUS CALAMARI! It's super fresh too!
I especially love the batter used in this. It's a little herb-y and it's really crunchy!
This delicious salad is surprisingly light despite all that cheese! The dressing has got to be the best! I THINK it's vinaigrette.
JUST LOOK AT THAT PARMA HAM!!!!!!
I LOVE LOVE LOVE parma ham! Thank god it's not cheap man if not I'll go broke & FAT eating it everyday. To be honest the pizza was above average but not like super yummy. If it wasn't for the parma ham, I would think it's really really average only!
LOOK AT THAT BEEF!
Sometimes I really think the pictures I take make the food look much more yummy than it really is. Objectively speaking, the beef is above average. But according to my standards, I think the beef is ONLY average. I had much better beef for the same price. White Rabbit is an example.
22nd Monthsay @ Soup Restaurant
Because it's Soup Restaurant I don't really know if I should actually review it since majority of the people would have eaten there. Nevertheless, if you haven't, the samsui chicken & the homemade bean curd are the absolute must haves!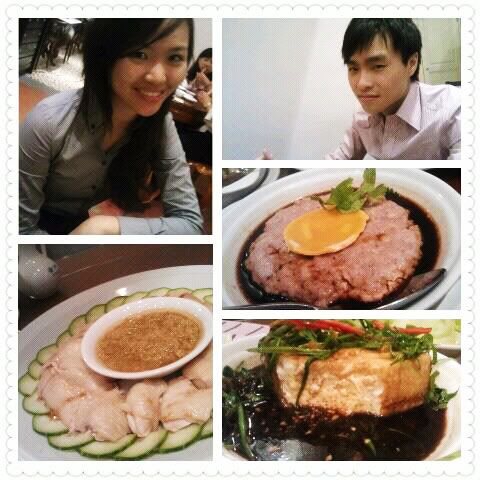 That's a tired looking me after internship, ph, meat with salted egg yolk, samsui chicken & homemade beancurd.





Whenever work ends for me, I just want to go home and sleep, even though I may not have done much for the day. I think ph must be super happy whenever I'm working because I have ZERO preferences for anything. He gets to choose where to eat and I wouldn't even mind if we had coffee shop food for our monthsary. LOL. A tired woman is the easiest to please!