The reason for visiting JB this time round is just to try out a HK cafe, to eat my favourite crepe and to buy my Japanese magazines at ridiculously cheap prices, all at KSL.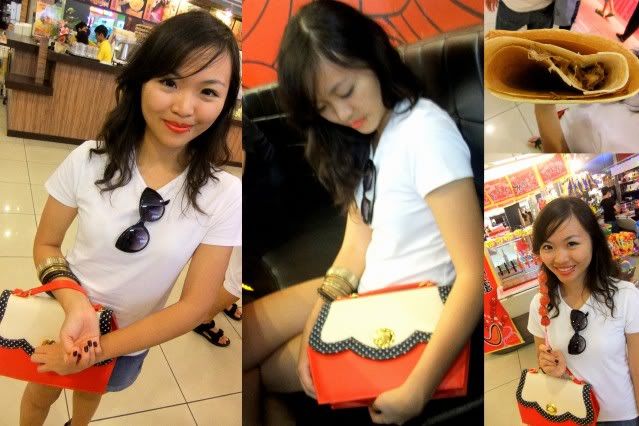 If you don't already know about the awesomely cheap crepe in KSL, it's called Crepe2U. The crepe is really HUGE and the most expensive one with tons of different ingredients is about 7.50RM. That's less than SGD3.25!!! The crepe stall at Bugis Street level 2 used to be my favourite fast-food style crepe stall, until I came across Crepe2U. Damn the one at Bugis is SGD3 for the cheapest! I had something new that day too. There was a stall selling fruits coated with liquid sugar and I got the strawberry one! Ph hated it because it was too sweet which means it had too much calories -.- But really, it's sweet so if you don't have a sweet tooth, it's not for you.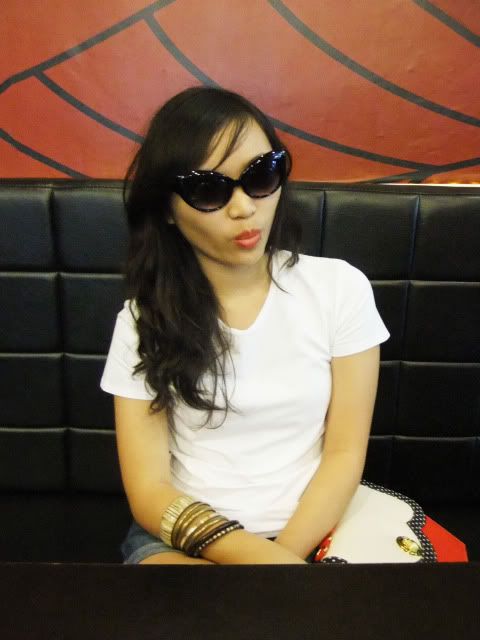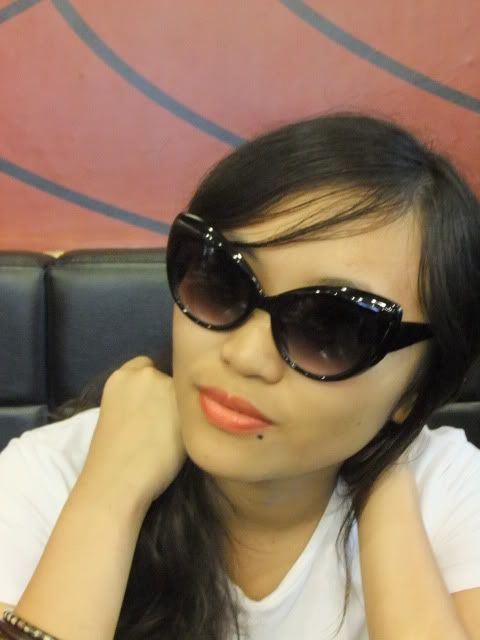 I'm wearing my new pair of cat eye sunglasses which was a gift for valentine's day! BUT ph ordered the wrong one for me -.- I wanted it in leopard prints. But neh mind! It's still cat eye! I can't find any of it in Singapore so it was shipped from America via ebay. It's a trend in America and I think Singapore has yet to catch on. I think by the time Singapore does, the trend would have been way last season. Then again Singapore fashion is always a few seasons slow. Pfft.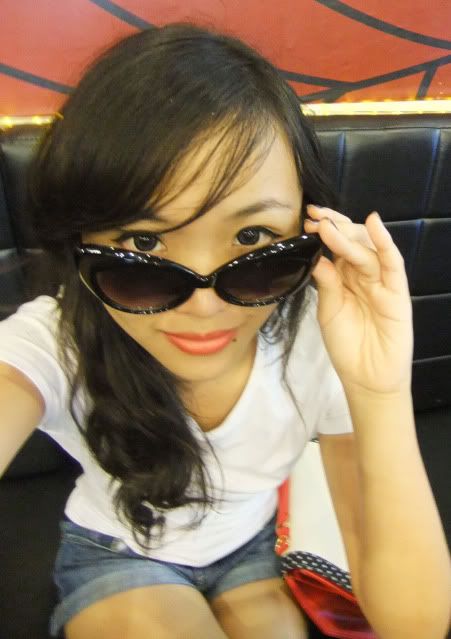 There were about 3 different HK Cafes in KSL and I had wanted to try some the last time I was there. I just have something for the overpriced Nissin instant noodles. Ph hates HK Cafes and reluctantly ate. I felt bad though because the food is just MEH. Rice was served cold too please. I think Xing Wang in Singapore beats the HK Cafes in Malaysia anytime. Amazingly, the cafe we ate at, Causeway Cafe, has 2 branches in Singapore! Why Singaporeans standard for food so low one >:( It's really not nice at all. Maybe I just ordered the wrong dishes. But then again those I ordered were under the chef's recommendation. Oh well, thank god it's less than half the price.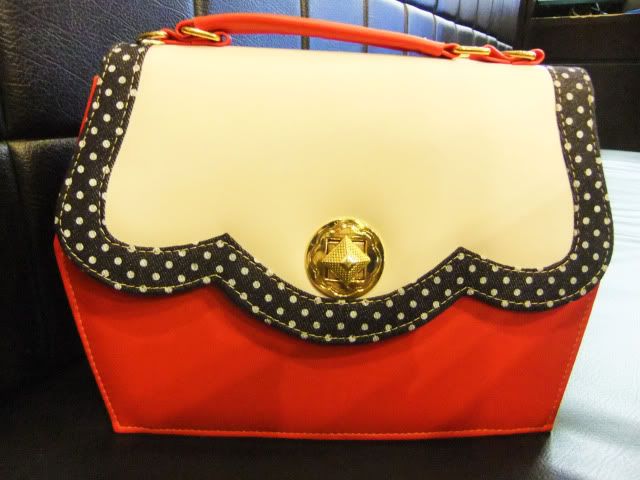 I love this cute cupcake hand bag which I got from JB the last time round. It's only 25RM!!!!!!! Screw all the blogshops here who sell them at SGD25. I've seen a few of this bag around in Singapore, but mostly the baby blue/pink version. I had wanted that too but I thought the red/navy mixture is more versatile.
And here are my loots from this JB trip! I got myself 2 Vivi magazines and 1 SCawaii for the price of RM19! Yes they are all backdated. The July 2011 Vivi and SCawaii issue were sold as a bundle of 2 for RM9, while the January 2012 Vivi issue was sold at RM10.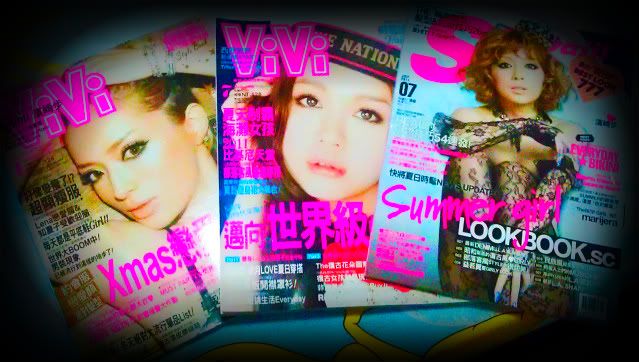 The reason why I rather buy these magazines in JB, despite being backdated, is because it's too expensive in Singapore. One Vivi magazine is SGD9! So I guess getting an issue which is 2 months back for less than SGD5 is pretty okay. Besides I always read my magazines whether they are backdated or not. Furthermore, the fashion trend in Singapore is ALWAYS a few seasons behind the rest of the fashion trendy countries. The only reason why I got the July issues was because Ayumi Hamasaki is on one of them! I LOVE AYUMI :) She's just the prettiest asian everrrr. What do you mean that she underwent plastic surgery?! >:( Find me a REALLY pretty asian who didn't go through plastic! Why do you think Korean stars are so famous huh? If they didn't undergo plastic surgery, I bet you wouldn't even wanna look at any of them. And PUHLEASE, at least Ayumi can freaking sing! I don't think SNSD can sing at all, they're just popular because they have super long legs and pretty.