Sorry for the short hiatus! Just got my laptop back after repairing the noisy ventilation fan. It sounded like a churning engine and the laptop heats up a lot. The worst part is that the churning engine noise happened almost every 20 mins and I was in class. So can you imagine that the whole room is silent except for the prof's voice and my churning fan? A couple of my friends turned to stare at me so I had to shut down my laptop halfway.
Anyway, this is going to be another food post! Did you enjoy the Toa Payoh one below? I got a few comments on fb on how the nasi lemak looked super yummy!
So 18th Monthsary was spent at this bar and grill place called Western Bar located at 8 Jalan Geleggang. That entire area is really quaint and quiet because it's smacked right in the middle of private estates.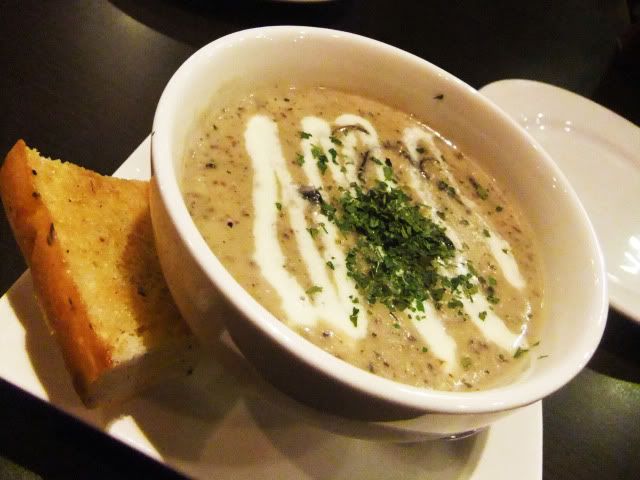 Mushroom soup- 9/10
The mushroom soup came with 5 different types of mushroom so I was really impressed and of course, it tastes really delicious! In fact, it's my favorite among everything we ordered that night! But I guess it's because the mains are not fantastic.
Spicy Chicken Wings- 7.5/10
The chicken wings are coated in Tobasco and I like the fact that they served stalks of celery and mayo together with the wings. Having a few stalks in between bites of chicken resets your taste palate nicely and you can enjoy the chicken wings in it's full uh... glory.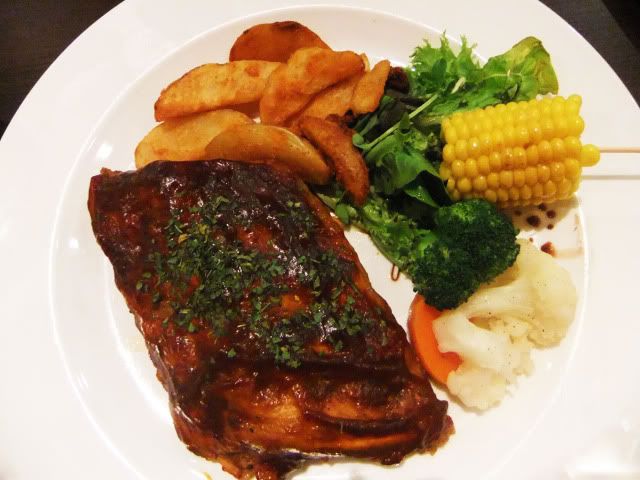 BBQ Pork Ribs- 8/10
I felt that the ribs tasted like the one at Cafe Cartel, only meatier, which is a plus. But what really made this dish an 8 are the sides which accompanied the ribs. Those potato wedges are one of the tastiest I've ever had, and the corn and salad adds so much more value to the dish.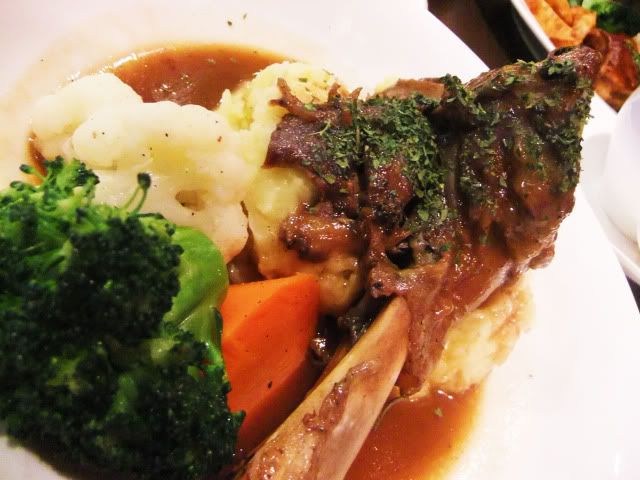 Lamb Shank- 7/10
I think cooking lamb is really hard to master. The meat always has this uh.. stench (for lack of a better word) and it can really spoil the dish sometimes. Sadly, the lamb shank here was a victim of its stench. I had honestly expected better because this dish was recommended on hungrygowhere. But the plus side is that it's cooked until really tender so the meat comes off the bone very easily. The mash with the brown sauce is the ultimate saving grace because without it, I think both ph and I would be really grumpy over this dish. At least we were still reasonably happy thanks to the mash.
I think this place excels in side dishes but not the mains. Then again, this may not be such a fair judgment because they their chicken or pastas may actually taste really really good. But given that these 2 dishes are the few more expensive ones, I wish they were much better, especially the lamb. Oh and I REALLY LOVE THE MUSHROOM SOUP. I wanna go back for mushroom soup!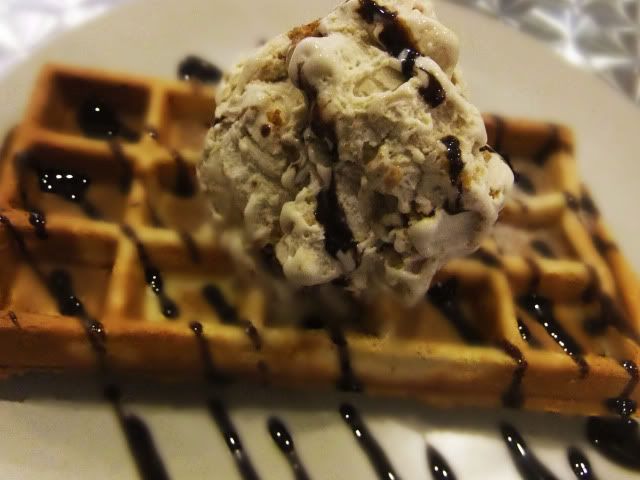 We went to
Ice Cream Chefs
just a few shops down the entire stretch of shop houses, for dessert. The ice cream is fantastic but the waffle SUCK BIG TIME I don't even want to eat it. It's bland, soft and dry. Even the cinnamon powder on the waffle didn't help. Don't ever eat the waffle, unless you like tasteless stuff.
I shall end off this post with one of my new purchase from F21! I think I'm not longer a size 7 though because it's loose on me. Good news because it means I lost weight till even my fingers are slimmer :D